Milestones and History
Cyrus Cylinder Exhibition at the Getty Villa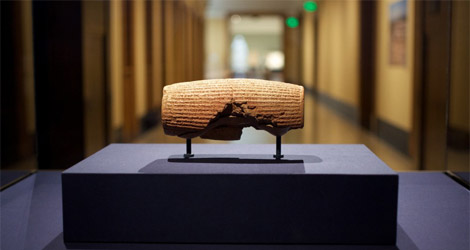 Cyrus Cylinder Opens at the Getty Villa and is viewed by a record breaking 75,000 visitors.
International Jury Announced
Farhang Foundation announces an esteemed panel of jurors for the competition:
Kamran Diba - Tehran Museum of Contemporary Art, Founder and Architect
Shazad Ghanbari - Farhang Foundation Trustee and Competition Chair
Linda Komaroff - Curator of Islamic Art and Department Head, Art of the Middle East, Los Angeles County Museum of Art
Scott Jay Schaefer - Vice President, International Fine Arts at Sothebys and former Senior Curator, J. Paul Getty Museum
Bennett Simpson - Senior Curator, Museum of Contemporary Art, Los Angeles
Freedom-A Shared Dream Competition Launch
Farhang Foundation launches: FREEDOM - A SHARED DREAM, an International Public Urban Art Competition.
300+ Submissions Received
Over 300 professional artists submit design narratives.
150 Semi Finalists
150 semi finalists are invited to submit final design narrative and sketches.
5 Finalist Are Selected
The top 5 finalist are selected:
Nousha Emami
Brad Goldberg
Majid Haghighi
Owen Morrel
Winner Announced
Cecil Balmond is announced as the winner of Freedom - A Shared Dream.

Cecil Balmond
Planning, Design Development
Planning and design development commences in collaboration with Cecil Balmond and the City of Los Angeles.
Fabrication and Site Preparation
Fabrication and Site Preparation.
Installation and Unveiling
Final installation and public unveiling on Santa Monica Blvd and Century Park East.